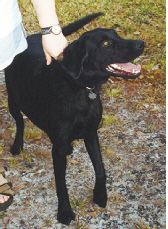 Elvis is a very happy and playful dog and is always on a leash
to keep him from flying away. He is the only dog I know
that can jump straight up in the air from a stand still
and look you right in the eye.
And to his owners with the leash I say,
" Thank you, Thank you very much."