Dow

Dow is a 8 year old lab, dalmation, chow mix that loves
to chase things. However the only things he has retrieved
for me were things I have shot, and I don't mean disc shots
(unfortunetly on some rare occasions I could use his hunting
skills to find a disc in the brush, maybe I should glue a piece
of deer skin to my driver.) He loves to go golfing with me
even though I keep him on a retractable leash. He knows my
golf bag (which is made of deerskin) and gets
so excited when he sees it. He can be seen on rare occasions
at Barnett Park in Orlando.
---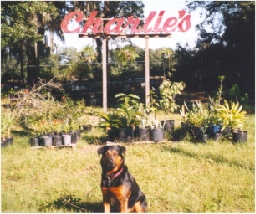 Damian keeps an eye on Charlie's Nursery.
---